Exploration of Forgotten Inscription of Xerxes in Turkey
Soudabeh Sadigh
foreigndesk@chn.ir


Tehran, 4 August 2007 (CHN Foreign Desk) – The first big achievement of Iranian couple who have started their exploration tour around the world with motor cycle, was finding the forgotten inscription of Xerxes, the Achaemenid Emperor, in heights of Van Lake in Turkey.

While just less than two weeks has passed since the Iranian couple have started their tour around the world, Mrs and Mr. Gheidi have sent a number of invaluable gifts for their countrymen: pictures of Xerxes's inscription located next to Van Lake in Turkey which was somehow unknown for a long time and no picture was taken from it until now.

Announcing this news, Gholamreza Ramezani, general manager of Iranians Research Growth Institute, which is in charge of planning the project of traveling around the world in 800 days for this couple, said: "One of the main aims of this Iranian couple was to find the exact place of this inscription in Van Lake."


He further explained that, Dr. Razmjou, expert of Achaemenid history and ancient Persian language attracted out attention towards this inscription, he further said that the exact place of this inscription is not known.

"Apparently some 100 years ago a design from this inscription was prepared through which experts of ancient languages started to translate it. This inscription was decoded by Ronald G. Kent, linguist and expert of old Persian language, for the first time in 1908. However, the efforts of this Iranian couple led into identifying the exact location of this inscription which was unknown until know," added Ramezani.

According to Ramezani, two Iranian and Turkish guides helped Mrs. and Mr. Gheidi upon their arrival to Turkey in this exploring trip. "Considering the existence of a number of other inscriptions in Van area, the pictures were emailed right away to a team of experts in Tehran to be studied and comparing them with what they knew about Xerxes inscription in an attempt to identify it," said Ramezani.


______________________________________________
Number 16 Fortress of Gorgan's Wall Discovered
Gorgan's Historic Wall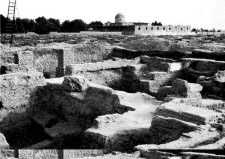 Third season of archeological excavations conducted by Iranian-British joint team on Sassanid wall of Gorgan led to discovery of the no. 16 fortress of this historic defensive wall.

Tehran, 20 August 2007 (CHN Foreign Desk) – Continuation of geophysical activities of Iranian-British joint archeology team on great wall of Gorgan have resulted in discovery of the no. 16 fortress which is located inside the vicinity of Gorgan's wall.

Consisted of archeologists from Iran's Cultural Heritage, Handicrafts, and Tourism Organization (ICHHTO), and University of Edinburgh and Durham University, joint Iranian-British archeology team have started their excavations in the vicinity of great wall of Gorgan, otherwise known as Gorgan's defensive wall, in an attempt to find out more about this stunning architectural masterpiece. Studies on this historic wall originally started with the aim of finding the political and social significance of the wall during the Parthian and Sassanid dynastic periods. In order to clarifying the exact date of this historical fortress, recently archeologists have started some sounding works in the area.

Regarding the architectural style of this newly discovered fortress, Hamid Omrani, Iranian head of the archeology team explained that the interior parts of the fortress were constructed symmetrical. "The fortress is located in the interior space of the wall and while more than 1700 years have passed since its construction, it has still remained intact," added Omrani.

Great wall extended for 200 kilometers in the southern coast of the Caspian Sea, is the most ancient and the longest wall in Iran. It was constructed to prevent invasions by the Heptai tribes from north side of the country. Comparable to the Great Wall of China, Gorgan's Defensive Wall has a cultural-historic importance and brings into light the rich civilization of northern regions of present-day Iran.

Iranian-British joint team has also succeeded in discovering the biggest fortress, 64 hectares in area, in one kilometer distance outside of Gorgan's wall during the past few days. Recently, the extent of the Great Wall of Gorgan was traced in the waters of the Caspian Sea, buried in sediments.


______________________________________________
Iran's Earthenware Texture Waits for ICHHTO's Decision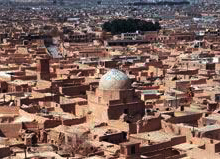 City of Yazd is known as the biggest and most untamped adobe city in Iran While less than 6 months has remained to the time for clarifying the place for establishing an international research center for adobe architecture, and despite that Iran is one of the main choices for establishing this center, no measure has been done in this regard by Iranian authorities.

Tehran, 18 August 2007 (CHN Foreign Desk) – After four years since representatives of ICCROM and ICOMOS have recognized Iran as the best place for establishing an international research center for earthenware architecture, at last authorities of Iran's Cultural Heritage, Handicrafts, and Tourism Organization (ICHHTO) have decided to hold a meeting to see about it. This is while less than 6 months have remained to the time for making a decision for clarifying a place for establishing this center.

The idea for establishing an international research center for earthenware architecture was came up during the 9th international conference on the study and conservation of earthenware architecture which was held in city of Yazd in 2003 which opened a new horizon for being hopeful for preserving adobe architectural texture. In the conference, the ancient city of Meybod in Yazd province was suggested as the best place for establishing such a center due to it unique adobe architectural style.

This idea was greatly welcomed by Nicholas Stanley-Price, director general of the International Center for the Study of the Preservation and Restoration of Cultural Property (ICCROM), as well as Michael Petzel, president of the International Council on Monument and Sites (ICOMOS). However, the suggestion never came into force and after four years, Iranian authorities have not taken any serious action in this regard. This is while only 6 months have remained to the time of the 10th international conference which is going to be held in Mali in February 2008.

Experts believe that considering the existence of a large number of earthenware constructions in Iran, establishing the international institute of mud-brick studies, would guarantee the protecting this ancient heritage. However, due to neglects in this regard, it is afraid that despite all its potentials, Iran would lose the chance for being host of the first international research center for earthenware structures and pass the opportunity down to another country.

Although authorities of ICHHTO show solidarity for launching this center in adobe city of Meybod, evidence indicate that no measure has been done in this regard yet.

According to Isa Esfanjari, expert of ICHHTO provincial department in Yazd, governor office of Yazd province and representative of Meybod city in Iran's parliament have expressed their readiness to support this project. "The project is just waiting for endeavor of ICHHTO to do something in this regard," said Esganjari.

Regarding the attempts which have been made to attract the cooperation of ICHHTO in this project, Azizolah Seifi, director of Cultural Heritage, and Tourism Organization of Yazd province told CHN: "We have asked for holding a session with attendance of Esfandiar Rahim Mashayi, president of ICHHTO, and his deputy Hamid Baghayi to discuss the case in detail." The final decision would be made by ICHHTO after assessing all proposals.

Prior to this Meybod's 60-year-old adobe structure, which was used by British forces during World War II, was proposed as the venue for the international institute of mud-brick studies. Meybod is the first historic city which has been entirely registered in the list of Iran's National Heritage sites.


______________________________________________

CARPET ::.. Iran unveils the world's largest carpet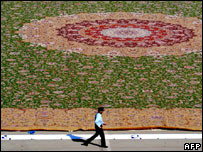 Iran unveils vast handmade carpet

The carpet was woven with cotton and wool from both Iran and New Zealand
Iran has unveiled what it says is the world's largest handmade carpet, a vast green and red floor covering that is larger than a football pitch.
The carpet, which took 1,200 weavers some 18 months to make, is destined for a mosque in the United Arab Emirates .
Measuring 5,625 sq m (60,546 sq ft), the carpet was made in nine separate segments with 2.2 billion knots.
It was woven in Iran 's north-eastern province of Khorasan and is worth an estimated $5.8m (£2.8m).
Half of that sum is destined for the local area in Khorasan, where it was produced using about 38 tons of wool and cotton.
The nine sections of the carpet will be stitched together after being flown to Abu Dhabi in two separate aeroplanes.
Four groups of people would be sent to UAE for the fitting and cleaning of the carpet, said Jalaleddin Bassam, the head of Iran 's state carpet company.
He said the carpet was an important commission for Iran 's carpet-making industry, and said it could lead to further orders.
" Iran is in talks to make similar carpets for Oman and other Gulf countries," he told Agence France-Presse.
The carpet - mainly green, red and cream - was made using 25 different colours of wool sourced from the town of Sirjan , in southern Iran , as well as New Zealand .


______________________________________________

Billions for arabs in Iraq and Syria, Iran's Hormozgan Historical Sites "Zero"
Aug 16, 2007

While 5 months have passed since Iranian new year, no budget has been still allocated for researching programs and excavations in Hormozgan historical sites. In a talk with CHN, Marjan Ravayi, expert of the Cultural Heritage and Tourism Department of Hormozgan province, explained about the interruption in researching projects of this province due to lack of budget.
She further added that since the condition for preserving historical sites after being excavated is not prepared yet, the budget which has been considered by Iran's Cultural Heritage, Handicrafts and Tourism Organization (ICHHTO) for undertaking excavations in one of historical sites is actually unusable.
This is while archeological excavations had been already started last year in Hormozgan province which led into discovery of some important historical evidence. The project was supposed to be resumed if the budget is provided.
Located in southern Iran, Hormozgan province has 14 islands in the Persian Gulf and 1000 kilometers of coastline. The province is known to have been a settlement area during the Achaemenid dynastic era (550-330 BC). Hormozgan is said to have been particularly prosperous between 241 and 211 BC, but is said to have grown even further in trade and commercial significance after the arrival of the Islamic era (651 AD).
Marco Polo visited the port of Bandar Abbas, capital city of Hormozgan province in 1272 and 1293 and reported widespread trading in Persian jewelry, the ivory and silk of IndoChina, and pearls from Bahrain in the Bazaars in the port of Hormuz.
Lashtan fortress located 6 kilometers east of Lengeh port, which is believed to date back to the Achaemenid era, is one of Hormozgan historical sites which ICHHTO experts are trying to prepare its file for being inscribed in list of UNESCO's World Heritage Sites.

© Iranian.ws