---
---
To help us, please click on the links below
One Million Signatures, please emzaa konid
lotfan zamimeh ra motaleh farmudeh va dar sourat tamayol hemayat konid

http://www.gopetition.com/online/14031.html
---
Iranian-Americans tackle domestic-violence secret
Men form a group to stop abuse of women.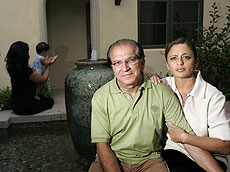 COMMUNITY VOICE: Dr. Mohsen Alinaghian and his wife Shahin Nojan-Alinaghian help abused Persian woman. The woman at left says she's fearful and does not want to be identified.
---
Women potters' works on display at Niavaran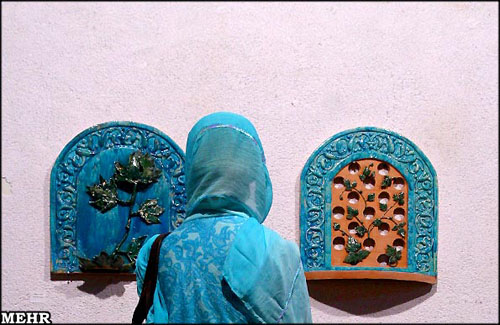 The first exhibition of Iranian women potter's works opened at the Niavaran Cultural Center on September 1.
---
Iran: Video................Women in Hell
---
Women Writing Novels Emerge as Stars in Iran

By NAZILA FATHI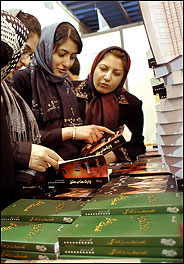 Over the past decade, Iran's best-selling fiction lists have become dominated by women, an unprecedented development abetted by recent upheavals in Iranian society.
The number of women who have published novels has reached 370, said Hassan Mirabedini, a scholar of Iranian literature, whose findings recently appeared in the magazine Zanan (Women). That is 13 times as many as a decade ago, the research showed, and is about equal to the number for men today.
---
Temporary Success: Stoning of Mokarrameh and her Partner Suspended
The stoning of Mokarrameh Ebrahimi and the father of her 11 year old illegitimate child was stayed by the written order of the Head of Judiciary in Tehran addressed to the head of the judiciary branch in Takistan. The stoning had been scheduled for Thursday morning, local time, and the order came less than 24 hours before the scheduled time.
The Stop Stoning Forever Campaign would like to thank all the individuals and organizations who have contacted the Iranian officials and plead for the lives of the couple. Despite the short time for action, many people and human rights organizations raised their opposition to stoning of the couple and shared their concerns with the Iranian judiciary officials. The Stop Stoning Forever Campaign owes this temporary success to the overwhelming support of the many conscience citizens of the world.
It is crucial to understand that the stoning sentence of Mokarrameh Ebrahimi and her partner is still legally in effect and it is only the implementation of the sentence that has been suspended. Another woman, Kobra Najjar, who is also the mother of four children and had been forced to prostitution by her husband, a drug addict, is also facing stoning to death after her appeal to the Judiciary Commission for Amnesty and Clemency was rejected for the third time last week. Furthermore, there are at least seven other men and women who are sentenced to stoning for having committed adultery.
In order to save the lives of Mokarrameh Ebrahimi, her partner, Kobra Najjar, and all the other men and women who have been sentenced to stoning, the loud opposition to stoning shall continue until the Iranian legal system puts an end to stoning.
In May 2006, a man and a woman, Abbas and Mahboubeh, were stoned in Mashhad for having committed adultery, and a woman named Masoumeh was hanged in Evin prison for adultery in October 2006. The Stop Stoning Forever Campaign activists fear that other forms of the death penalty might replace stoning, if the law is not changed.
We are urging you to please continue the efforts to abolish stoning in Iran. Together, we can stop stoning forever all over the world.
---
One Million Signature
Treating us Like Criminals! Pressures Increase on Activists Involved in the One Million Signatures Campaign / By Noushin Ahmadi Khorasani

Translated by: Sussan Tahmasebi
Monday30 ???? 1385

The "One Million Signatures Campaign Demanding an End to Discriminatory Laws against Women" was launched five months ago. Our demands in this effort are clear: an end to discriminatory laws against women.

---
The so called honor killing in London
The beautiful Iraqi kurd slain by his bloody father and uncle!
---
One Signature at a Time / The New York Times

By MAURA J. CASEY
"Well-behaved women rarely make history," my favorite bumper sticker says. It surely applies to Shirin Ebadi, the Iranian lawyer and 2003 Nobel Peace Prize winner whose relentless campaign against discrimination has enraged the mullahs for more than 25 years.
---
Four women's rights activists sentenced to prison for organizing a peaceful protest demanding equal rights
www.learningpartnership.org/advocacy/alerts/iranwomenarrests0307
Four women's rights activists were sentenced to prison last week for their role in organizing the June 12, 2006 peaceful protest demanding equal rights for women. The activists are organizers of the "One Million Signatures" Campaign launched in August 2006 to demand an end to discriminatory laws against women. They were officially charged under article 610 of the penal code with "actions against the state" and threatening "national security." Support the Sentenced Activists
Sign the petition and help them reach their goal of one million signatures to end discriminatory laws against women.
Send emails to protest the sentencing of women's rights activists.

Fariba Davoudi Mohajer was sentenced to 4 years in prison, three of which are suspended and one year needs to be served. Parvin Ardalan and Noushin Ahmadi Khorasani were sentenced to 3 years, of which two and a half years are suspended and six months are to be served. Sussan Tahmasebi received 2 years, of which one year and a half years are suspended and six months are to be served.
The women will be required to serve the suspended sentences if "found guilty of another crime"--meaning continue activism--during the next five years. The government is using the suspended sentence as a way to pressure activists into ceasing their activities.
---
Hejaab ** Gozareshe Tasviri Az Tarhe Amniyate Ejtemayiee (Tehran)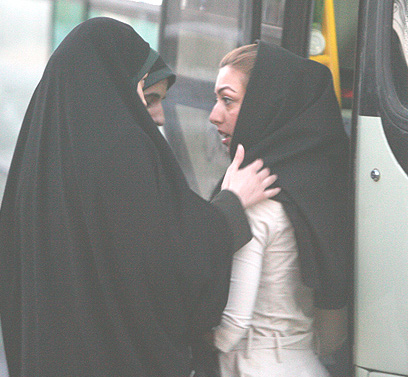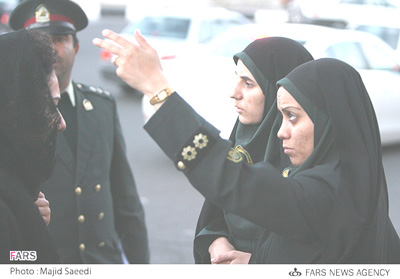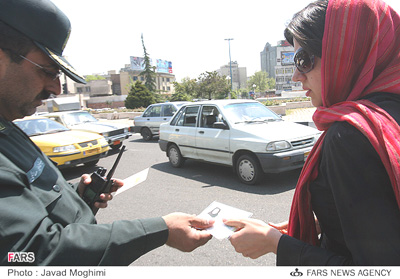 ---

The Kurdistan Human Rights Organization is expressing concern over the self-immolation of Kurdish women in Iran's Western Azerbaijan Province. The organization has published the name of more than 150 Kurdish women who have committed suicide in the past nine months, the majority of them by setting themselves on fire. Observers and activists say self-immolation of women is also happening in some other Western provinces of Iran that have large Kurdish populations, such as Ilam, Kermanshah, and Kurdistan. Domestic violence, social injustice, and discrimination are cited as the main reasons for self- immolation among women.
---
---