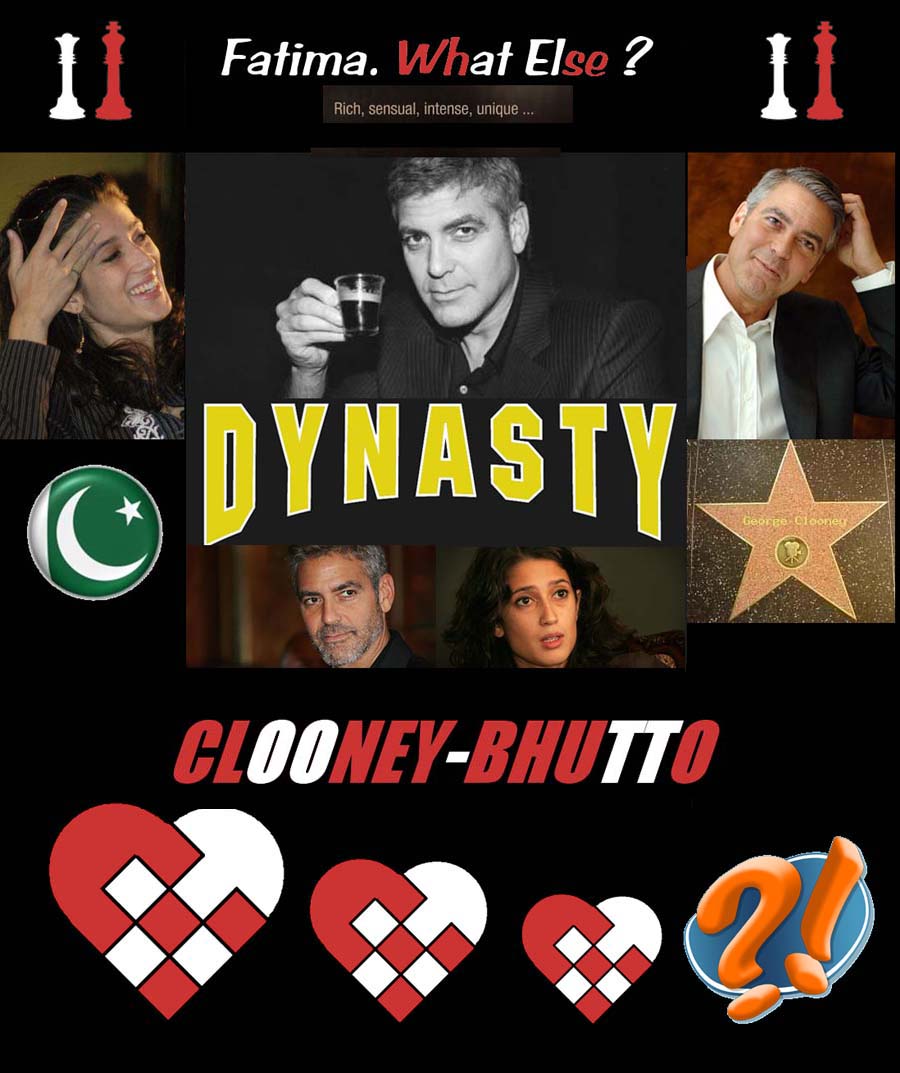 ©imdb & photocomposition ©DK
<![if !supportEmptyParas]> <![endif]>
<![if !supportEmptyParas]> <![endif]>
By Darius KADIVAR
<![if !supportEmptyParas]> <![endif]>
Ever Since their first meeting at an international conference last year, Hollywood Heartthrob George Clooney and Journalist, Poet and activist Fatima Bhutto (niece of Benazir Bhutto the former slain Prime Minister of Pakistan) have been subject to a great deal of speculation and scrutiny in the International press. Some sources even claimed  that the Film Star quickly fell for her. The Current Affairs reported last month quoting a source from The National Enquirer that the Film Star (notorious for his numerous and short-lived liaisons ) "Is hoping to take the relationship with the 26-year-old poet-journalist to the next level and spend some serious time with her in the US. Tricky long distance, Pakistan-to-US dating logistics aside, we think the two would make a nice couple. I mean, just look at her CV. She's a far cry from Clooney's last girlfriend, the 'Fear Factor' contestant, Sara Larson. Fatima Bhutto did her graduation in Middle Eastern studies from Barnard and a masters in South Asian Studies from University of London. So she's educated".
<![if !supportEmptyParas]> <![endif]>
According to the newspaper, Clooney, 47, is also said to be uncharacteristically serious about her, especially considering how smart and independent she is …
<![if !supportEmptyParas]> <![endif]>
Although Clooney has been able to keep the relationship under wraps, in private he is said to be gushing to pals about the raven-haired Fatima.
<![if !supportEmptyParas]> <![endif]>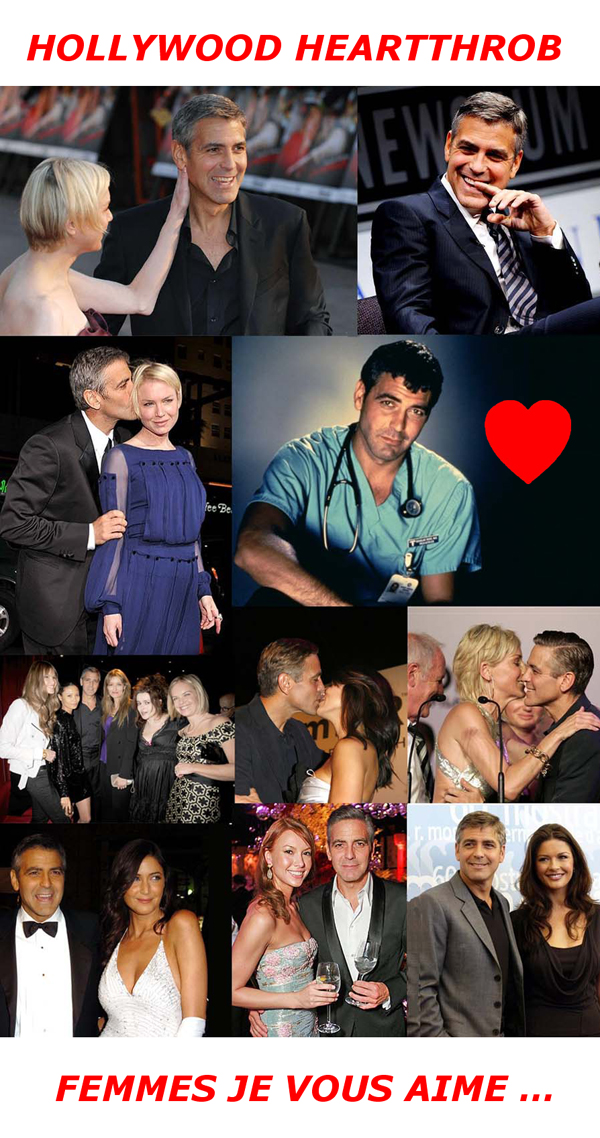 George … The Eternal Heartthrob ©imdb.com
<![if !supportEmptyParas]> <![endif]>
"Fatima was educated at Columbia University… and knew of his heartthrob reputation, but she didn't take his advances seriously because she thought their age difference - not to mention where they each lived - would make a serious relationship impractical. But Clooney has courted her by phone and e-mail and arranged to meet her abroad when their schedules allowed it."
<![if !supportEmptyParas]> <![endif]>
The pair are said to have met last year at a conference (George goes to them in his capacity as a United Nations Messenger of Peace, Fatima as a journalist) and agreed to keep in touch. When he broke up with shapely waitress Sarah Larson, 30, late last summer, his interest in Fatima apparently began to grow.
<![if !supportEmptyParas]> <![endif]>
For a while George has been the subject of more Random Couple Alerts than almost anyone else in show business, the signs are unmistakable that, at 47, graying, childless and possibly losing his vogue, he is ready to settle down. He has done all the liberal cause-mongering an actor of his stature could reasonably do, and with his hero Obama safely in the White House ("the best candidate there has ever been," he said), it was time to turn his attention to international affairs.
<![if !supportEmptyParas]> <![endif]>
The Bhutto Family have become to Pakistan what the Kennedy's have been to the US political landscape. Their name goes hand-in-hand with the turbulent politics and violent history of Pakistan. In a country in a state of crisis - inflicted by religious fundamentalism, awash with factionalism and corruption and beset by economic collapse – some expect Fatima to stand for office as other members of her family have in the past. Although she claims not to believe in "birthright politics", many political observers believe that she will contest her aunt Benazir's old seat, in the family fiefdom of Larkana, north of Karachi, in the next general election. It is too early to say if these elections will be a turning point in the life of Benazir Bhutto's niece who has made her name largely as a newspaper columnist (*) and author of two books of poetry.
<![if !supportEmptyParas]> <![endif]>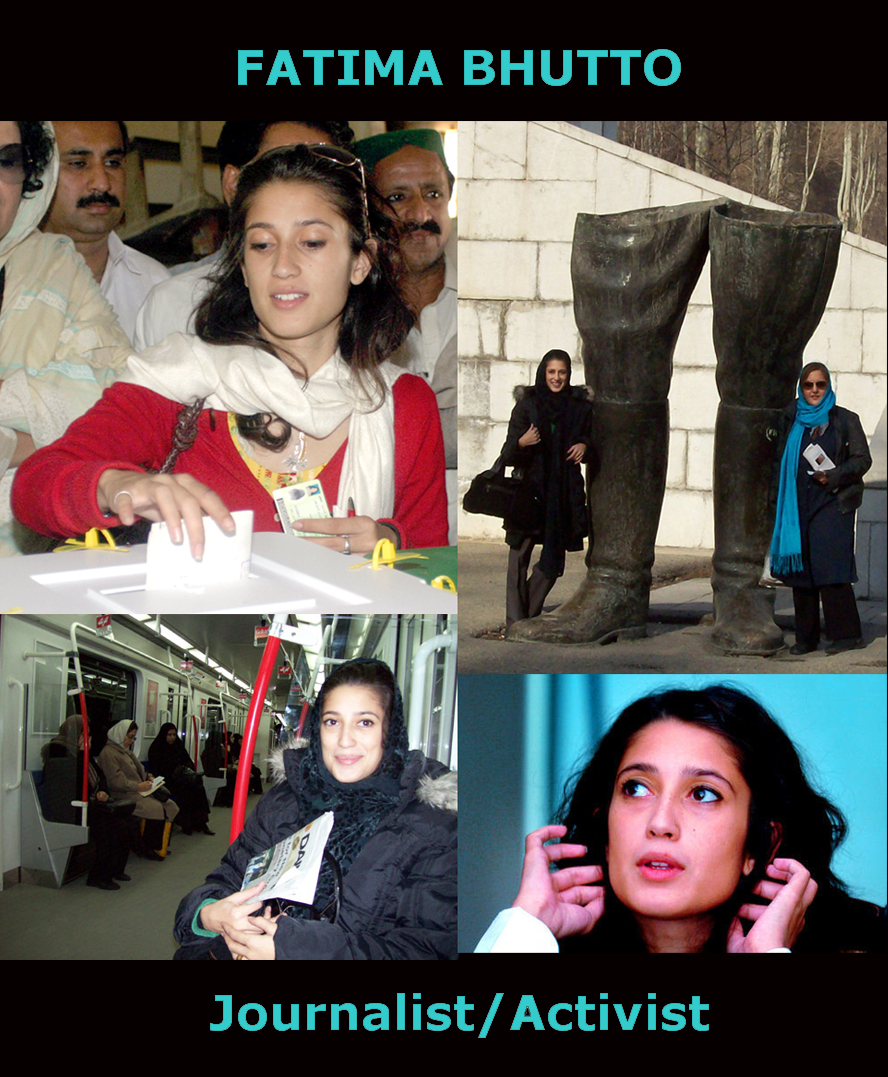 Fatima Bhutto visited Iran as a journalist and is playing a more active role in Pakistan's political life ©Fatima Bhutto & Payvand
<![if !supportEmptyParas]> <![endif]>
Educated in New York and London, equally at home in the cultures of the East and West, her celebrity has grown to the point where she causes a stir wherever she surfaces. Attracted by her good looks and glossy aura, a film producer recently offered her a part in a big-budget Bollywood musical, but she backed-off. The Bhutto brand, she sensibly reasoned, will only stretch so far.
<![if !supportEmptyParas]> <![endif]>
But Fatima's life has been to date anything but a fairy tale. In 1996  her father, Murtaza, Benazir's younger brother was killed in mysterious circumstances. Like almost everything that happens within or around the wealthy Bhutto dynasty, her father's death was surrounded by  rumors and intrigue, which raised suspicion and bitterness that have since strongly tainted her family relationships.
<![if !supportEmptyParas]> <![endif]>
Murtaza came into the spotlight when his father, Zulfikar Ali Bhutto, Pakistan's prime minister from 1973-1977, was arrested and sentenced to death by the country's military dictator, General Mohammad Zia-ul-Haq. The execution was to radicalize the Bhutto family's supporters, and once abroad Murtaza, with his brother, Shahnawaz, embarked on a campaign of violent reprisals. While living in exile in Kabul, Afghanistan, Murtaza married a local woman, and in May 1982, Fatima, their only child, was born. But the parents soon divorced but Bhutto traveled with her child  first to Tripoli, then France and later Damascus. She grew up basically as an itinerant exile always on the move, and constantly threatened of being targeted by agents of Pakistan's security forces. In Syria, her father remarried Ghinwa Itoui, a Lebanese ballet teacher, who truly substituted Fatima's real mother and became her political mentor.
<![if !supportEmptyParas]> <![endif]>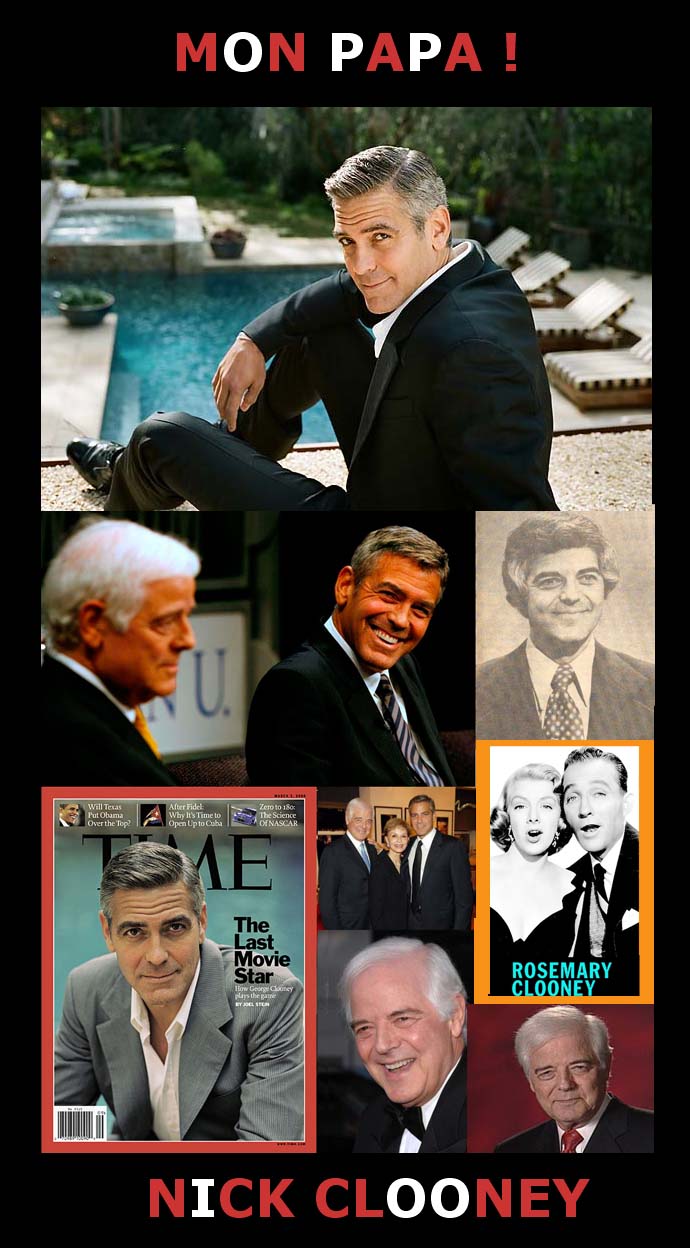 Nick Clooney is a respected journalist and columnist and George's Aunt was a famous TV Entertainer ©imdb & TIME
<![if !supportEmptyParas]> <![endif]>
In 1993, with Zia gone, her aunt Benazir was elected as prime minister of Pakistan, Murtaza returned home to wild celebrations. Yet any hopes that the country would enter into a benign Bhutto-ruled period of constructive calm were shattered as brother and sister clashed over the sharing of power, and, particularly, the role of Benazir's ambitious but much-distrusted husband Asif Ali Zardari, today the country's president.
<![if !supportEmptyParas]> <![endif]>
Murtaza was shot dead in a confrontation with police in Karachi three years later.. The circumstances remain disputed - the police say Bhutto's bodyguards pulled guns on them, while survivors of the entourage claim it was a straight rub-out - but the result was a rift between Benazir and her niece, that lasted until the latter's own violent death in December 2007.
<![if !supportEmptyParas]> <![endif]>
A few months earlier, when Benazir returned to Pakistan after many years of exile in London, Fatima had indignantly written: "Ms Bhutto's political posturing is pure pantomime… I am suspicious of her talk of securing peace. My father, a vocal critic of her policies, was killed in a carefully planned police assassination while she was prime minister."
<![if !supportEmptyParas]> <![endif]>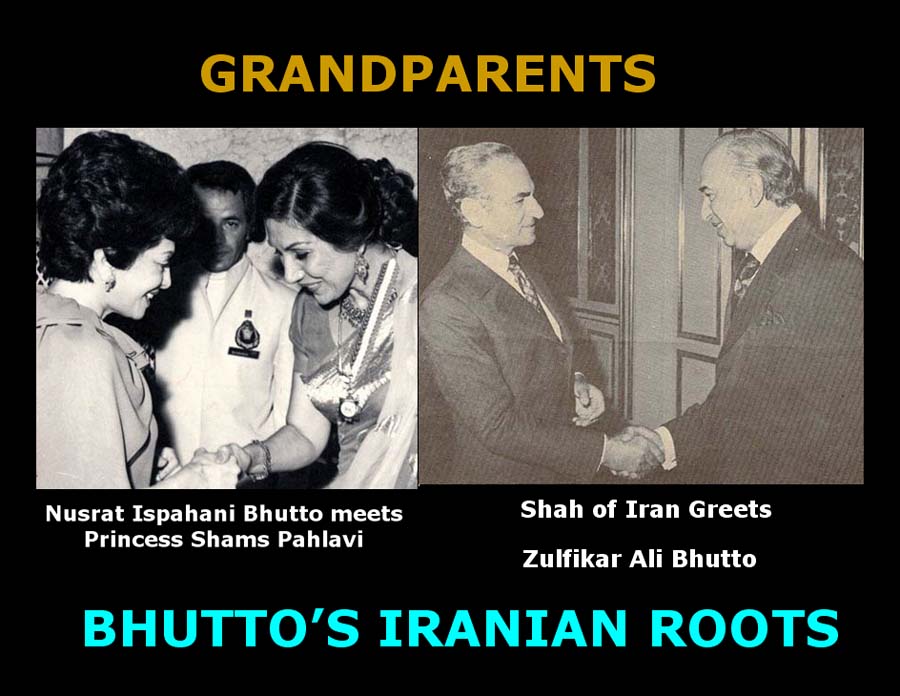 Fatima's Grandmother Nusrat was of Iranian heritage and her grandfather as Prime Minister of Pakistan was a close ally of the Late Shah of Iran ©Kayhan
<![if !supportEmptyParas]> <![endif]>
It was only with the shock of Benazir's death that Fatima showed a glimmer of forgiveness. "My aunt and I had a complicated relationship," she wrote in her weekly column. "That is the sad truth. In death there is, perhaps, a moment to call for calm. To say, enough, we cannot take this madness any more."
<![if !supportEmptyParas]> <![endif]>
Today the Bhutto clans seem to be slowly but surely setting their differences aside. The country's increasing problems are seems to offer an opportunity for a comeback of the Bhutto's at the center of Pakistan's political arena. Many observers believe Fatima is may well be waiting for the right moment to make a move.
<![if !supportEmptyParas]> <![endif]>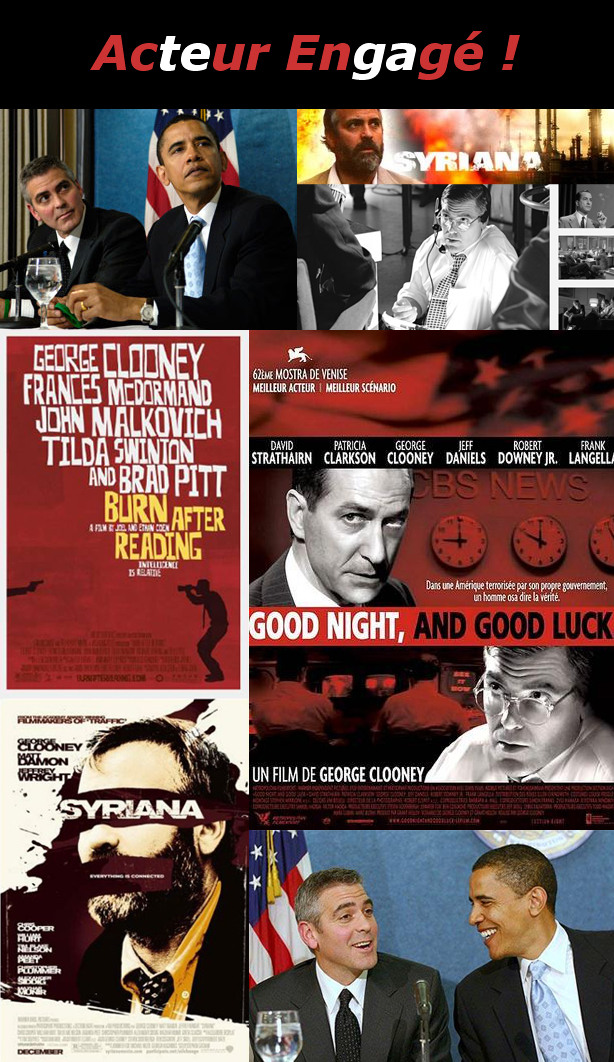 Politics play an important part in Clooney's life and not just onscreen ©imdb
<![if !supportEmptyParas]> <![endif]>
In contrast George Clooney's life seems to have been a carefree and steady road to success and international fame. Yet there are more similarities between the two that meets the eye. Other than sharing a common taste for Journalism, George Like Fatima, also belongs to a Dynasty in the Public Eye but one of Entertainers and Journalists. Like Fatima he had a difficult relationship with Her Aunt Rosemary Clooney, was a TV icon Entertainer of the 60's and 70's who tried to discourage Clooney's early endeavors as a struggling actor in Hollywood in the mid 80's and 90's. He grew in the shadow of his famous father Nick Clooney who led a successful career as a journalist, anchorman and game show host, as well as a politician from the state of Kentucky.
<![if !supportEmptyParas]> <![endif]>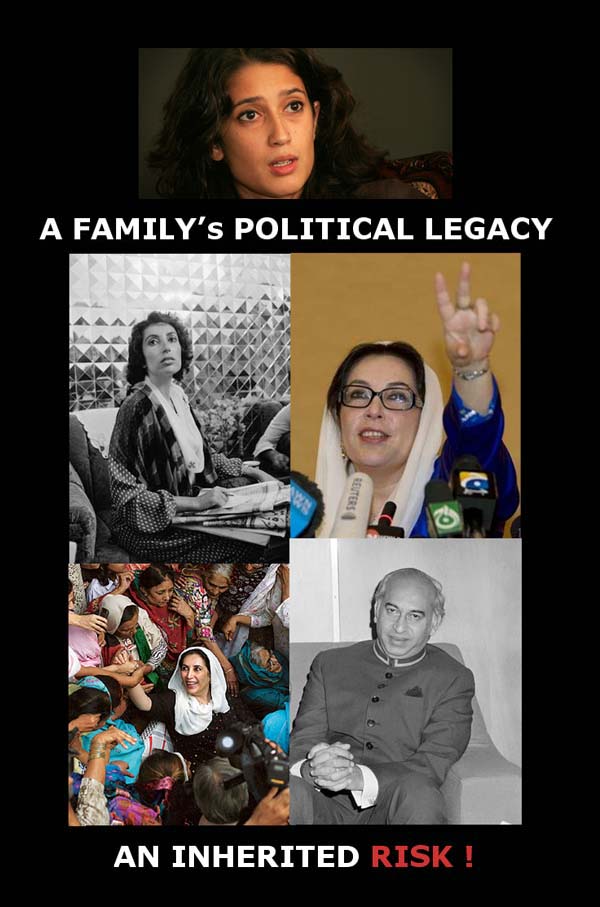 ©Benazir Bhutto Files
<![if !supportEmptyParas]> <![endif]>
Nick had a five-year stint as a news anchor in Lexington, Kentucky, then went to Ohio to host his own TV show, the "Nick Clooney Show", first in Columbus, Ohio for WLWC television in the late 60s, then for Cincinnati's WCPO Channel 9 in 1969, and finally with its greatest degree of success for Cincinnati's WKRC-TV Channel 12 through the early 70s. The "Nick Clooney Show" was a local morning show, with a variety and talk-show format. In 1974, he gained his first national fame by hosting the short-lived ABC daytime game show The Money Maze. He later became the news director and anchor for WKRC-TV, then an ABC affiliate, and the former home of his talk and variety show. As a journalist, he is probably best remembered for his hard-hitting coverage of the 1977 Beverly Hills Supper Club fire and its aftermath, which stretched for several years. Many people in the region first heard about the fire from Clooney when WKRC interrupted its Saturday night prime time schedule to broadcast news of the fire. Clooney pursued a hard news focus that was quite different from the sensationalism often seen on local TV. Under his leadership, WKRC-TV became a solid #1 in the local news ratings, dethroning CBS affiliate WCPO, which had controlled ratings for more than two decades under Al Schottelkotte's leadership. After leaving WKRC in 1984, Clooney worked in Los Angeles, California as the 5 p.m. and 11 p.m. co-anchor at KNBC-TV, and Salt Lake City, Utah, as an anchor. he returned to WKRC-TV in the late 1980s, but by that time, the NBC affiliate, WLWT, was #1 in the late newscast with Jerry Springer as its main anchor; Clooney was not able to lead WKRC back to ratings leadership as he had done in the past.
Nick Clooney then entered print media in 1989 with a column in The Cincinnati Post, then in 1994 after a short stint as a local NBC affiliate's news anchor in Buffalo, New York on WGRZ, resurfaced nationally in television as a host and researcher for the cable channel American Movie Classics, where he introduced and presented backgrounds of classic movies, along with Bob Dorian. He also worked as a presenter on a Cincinnati oldies radio station, WSAI-AM until his retirement.
<![if !supportEmptyParas]> <![endif]>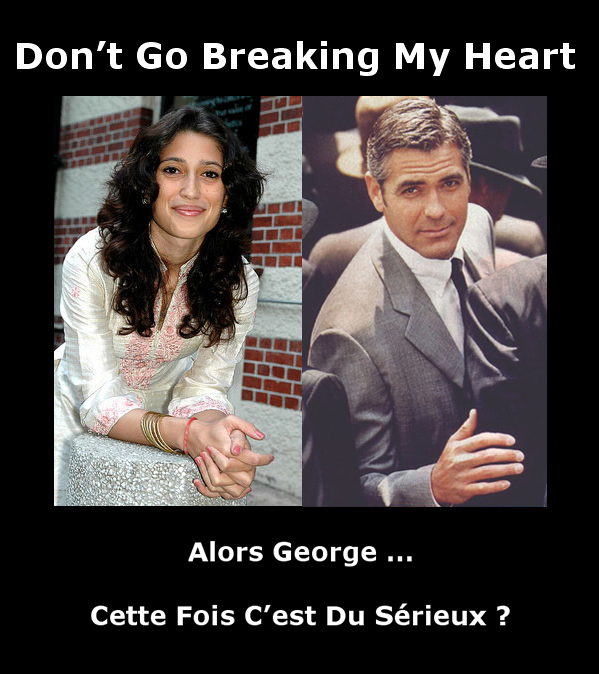 Serious this Time George ? Lets Hope so !©imdb
<![if !supportEmptyParas]> <![endif]>
A Family Legacy that was truly weighing heavy on the shoulders of the young George Clooney who hesitated several years between a stable journalistic career and that of a poorly paid and uncertain career in the movies. He boldy took up the challenge by choosing acting over journalismn to the dismay of both his parents and aunt, but his choice proved right and payed off overtime and against all expectations turning him into one of the most respected and beloved International Stars of his generation earning him even a Golden Globe and an Oscar.
<![if !supportEmptyParas]> <![endif]>
His First major breakthough came with the TV series ER in the role of Dr. Doug Ross. He starred in movies while appearing in ER, and his first major Hollywood role being From Dusk Till Dawn, directed by Robert Rodriguez. He followed its success with One Fine Day with Michelle Pfeiffer and The Peacemaker with Nicole Kidman, the latter being the initial feature length release from Dreamworks SKG studio. Clooney was then cast as the new Batman (succeeding Val Kilmer, who in turn, had succeeded Michael Keaton) in Batman & Robin, however the film was critically panned for its camp style. In 1998, he starred in Out of Sight, opposite Jennifer Lopez. This was the first of many collaborations with director Steven Soderbergh. He also starred in Three Kings during the last weeks of his contract with ER.
<![if !supportEmptyParas]> <![endif]>
After leaving ER, George Clooney starred in major Hollywood successes, such as The Perfect Storm and O Brother, Where Art Thou?. In 2001, he teamed up with Soderbergh again for Ocean's Eleven, a remake of the 1960s Rat Pack film of the same name. To this day, it remains Clooney's most commercially successful movie, earning approximately US$444,200,000 worldwide. The film spawned two sequels starring Clooney, Ocean's Twelve in 2004 and Ocean's Thirteen in 2007. In 2001, Clooney founded the production studio Section Eight with Steven Soderbergh. Clooney is generally considered Chief Actor.
<![if !supportEmptyParas]> <![endif]>
Clooney's Father's Journalistic career on TV and George's keen interest in international issues also reflect in the choice of some of his films.
<![if !supportEmptyParas]> <![endif]>
He made his directorial debut in the 2002 film Confessions of a Dangerous Mind, an adaptation of the autobiography of TV producer Chuck Barris. Though the movie didn't do well at the box office, Clooney's direction was praised among critics and audiences alike.
In 2005, Clooney starred in Syriana, which was based loosely on former Central Intelligence Agency agent Robert Baer and his memoirs of being an agent in the Middle East. The same year he directed, produced, and starred in Good Night, and Good Luck., a film about 1950s television journalist Edward R. Murrow's famous war of words with Senator Joseph McCarthy. Both films received critical acclaim and decent box-office returns despite being in limited release. At the 2006 Academy Awards, Clooney was nominated for Best Director and Best Original Screenplay for Good Night, and Good Luck, as well as Best Supporting Actor for Syriana. He became the first person in Oscar history to be nominated for directing one movie and acting in another in the same year. He would go on to win for his role in Syriana ( Read Syriana breaks Iranian Stereotypes )
<![if !supportEmptyParas]> <![endif]>
In many ways Clooney also brought back not just some of the old fashioned Hollywood Glitter that in recent years had been overlooked, but more importantly he brought back some of the moral consiousness in his films that were previously embodied by such great Stars like Paul Newman, Robert Redford or Jane Fonda, who used their "Fame" to advance some of their own beliefs be it in political, social or environmental issues that they felt needed attention. In recent years Clooney has been a spokesman for Hollywood Unions during the lingering Screen Writers Strike, has brought the tragedy of refugees in Darfur to World attention through a documentary he made with his father and has been recently named Peace Ambassador for the United Nations.
<![if !supportEmptyParas]> <![endif]>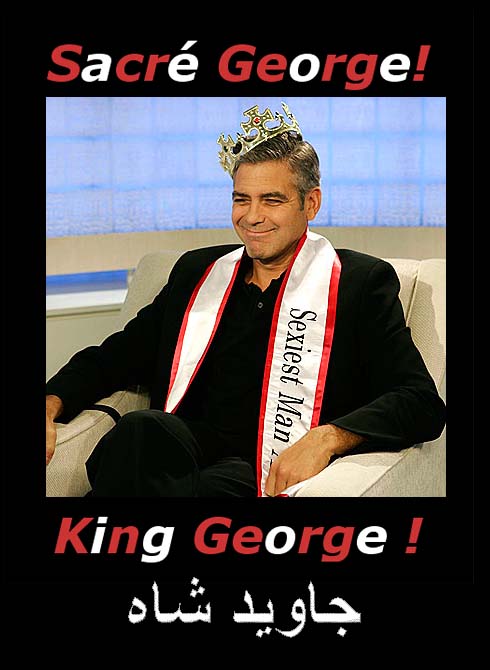 The Sexiest Man Alive doesn't seem to think so ! ©imdb
<![if !supportEmptyParas]> <![endif]>
So how true are the allegations of a romance between the Hollywood Star and the young and Rising New Beauty of the Bhutto Family ? Only Time will say …
<![if !supportEmptyParas]> <![endif]>
What is certain however is that contrary to one of Rudyard Kipling's infamous verse in His "Ballad of East and West" : 
<![if !supportEmptyParas]> <![endif]>
"Oh, East is East and West is West and never the twain shall meet."
That East and West do Actually meet more than often simply thanks to mankind's greatest flaw: LOVE !
<![if !supportEmptyParas]> <![endif]>
The Story of Hollywood Goddess Rita Hayworth and Persian Prince Aly Khan or that of German Bakhtiary Soraya Esfandiary and the Shah of Iran are some of the ones that come to mind. They were alas in these two cases short-lived but that is after all a risk all lovers take.
<![if !supportLineBreakNewLine]>

What we can all hope for, if the romance is confirmed, is that it will be an enduring and happy relationship for two people in the public eye, who in turn may become role models for other similar Love Stories. Proving if needed that Rudyard Kipling was indeed DAMN WRONG ! ;0)
<![if !supportEmptyParas]> <![endif]>
VIVE L'AMOUR !
<![if !supportEmptyParas]> <![endif]>
Authors Notes:
<![if !supportEmptyParas]> <![endif]>
(*) Articles by Fatima Bhutto on payvand see Below
<![if !supportEmptyParas]> <![endif]>
<![if !supportEmptyParas]> <![endif]>
Recommended Readings:
<![if !supportEmptyParas]> <![endif]>
On George Clooney:
<![if !supportEmptyParas]> <![endif]>
By George ! : Hollywood Star and U.N. Messenger of Peace by Darius KADIVAR
<![if !supportLineBreakNewLine]>
<![endif]>
George Clooney's Great Escape by Darius KADIVAR

Syriana breaks Iranian Stereotypes by Darius KADIVAR
<![if !supportEmptyParas]> <![endif]>