"World of Cinema" is courtesy of Darius Kadivar


Iranian actress Pupak Goldarreh dies at 35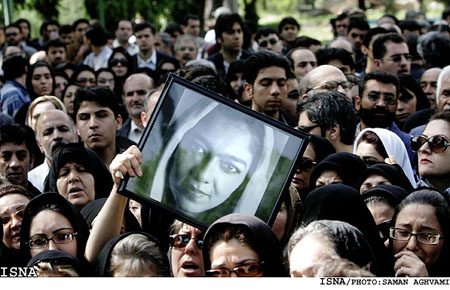 TEHRAN, Apr. 17 (Mehr News Agency) -- Iranian actress Pupak Goldarreh died at the age of 35 in Tehran's Mehr Hospital on Friday evening after being in a coma for eight months as result of a car crash in northern Iran, an official of the hospital reported.
Goldarreh became famous for her role in Behruz Baqaii's TV series "The Sweet Dream of the Sea" (1999), though she had previously acted in Mehran Modiri's sitcom TV series "The Happy Time" (1994).
She then appeared in the relatively obscure film "End of the Game" (2000) by Homayun Asa'adian, but she proved herself with the weighty role she had in Ebrahim Hatamikia's "The Dead Wave" (2000).
Her other credits include Bijan Birang's "Cinderella" (2001) and several TV series such as "Narges" and "The Kind Spirit".

Shohreh Agdashloo and Sam Golzari in American Dreams
A parody of American Idol as the middle eastern "Riza Family".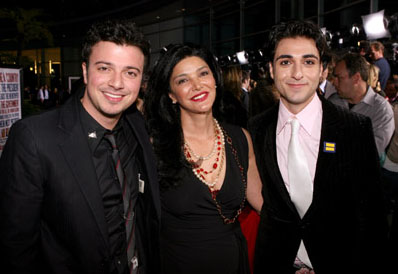 "Fish Fall in Love" wins best film award at French filmfest
TEHRAN, Apr. 18 (Mehr News Agency) -- Iranian director Ali Rafiei's "Fish Fall in Love" won the Best Film award at the 7th Aubagne International Film Festival, held from April 10 to 15 in France, the Iranian Students News Agency (ISNA) reported on Tuesday.
The film was previously screened in Canada and the Netherlands.
Written by Ali Rafiei, the film tells the story of a man called Aziz who returns to his village after 25 years and rediscovers not only the home he left but also Atieh, the woman he abandoned.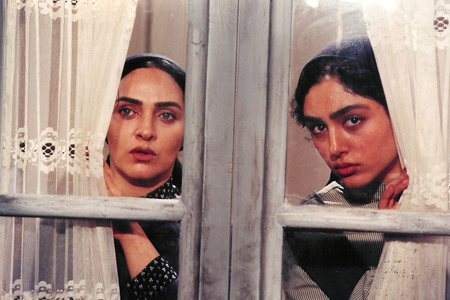 The film stars Reza Kianian, Roya Nonahali, Golshifteh Farahani, and Maryam Sa'adat.
Rafiei held several workshops on screenwriting and stage and costume designing on the sidelines of the festival.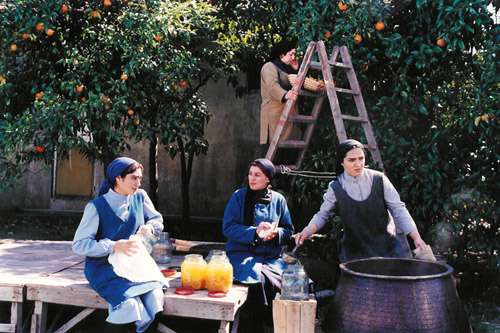 Synopsis
The Fish Fall In Love uses the language of food to speak of life and a story of unrequited love set in Northern Iran, as main character Aziz (Reza Kianian) returns home to take possession of the remaining portion of his father's abandoned estate after going on an undesired journey 25 years earlier. On his arrival he unexpectedly meets Atieh (Roya Nonahali).

Rumours of a would be movie on American Hero of the Iranian Constitutional Revolution: Howard Baskerville with Brad Pitt was spread a few years ago. Ata Servati has been thinking of this for nearly 50 years. President Khatami at the time of his presidency and Islamic glassnost was supposed to help the director finance the film but the project was abandoned after Khatami lost the elections.

However the book on which the film could be based was recently published.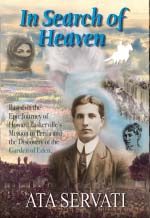 HIGHLY RECOMMENDED: THE FRENCH JAMES BOND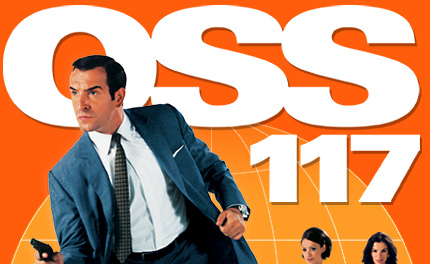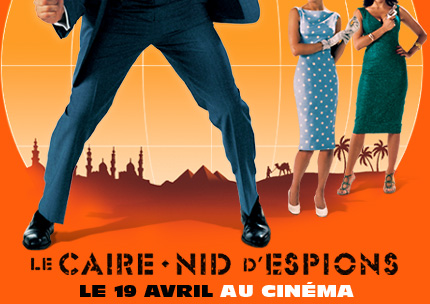 Jean Dujardin is one of the Funniest French actors a kind of Chevy Chase but funnier. Pity if you can't speak French cause his humour is incredible. His latest film OSS 117 is based on a popular spy film that was made to compete at the Time with the first James Bond's. At the time it was somehow serious except that now its become a total parody of the late 1950's and early 60's movies.

One of the funniest scenes in the movie is when OSS 117 is tortured and has to count to six in Arabic. Another is when he is invited to make love to a very sexy women and suddenly he says " Sorry I can't make love." Why ? says the women. "Cause I don't feel like it"

Sorry hard to translate but I hope you get to see this film its quite fun and unpretentious.

Ten Iranian films on Europe's list of box-office hits
http://www.payvand.com/news/06/apr/1119.html


TEHRAN, Apr. 12 (Mehr News Agency) -- Ten Iranian films are on the list of the top box-office hits in Europe from 1996 to 2004.
The international affairs manager of the Farabi Cinema Foundation said on Tuesday that "The Taste of Cherry" by directed Abbas Kiarostami, "The Color of God" by Majid Majidi, "Gabbeh" and "A Journey to Kandahar" by Mohsen Makhmalbaf, and "A Time for Drunken Horses" by Bahman Qobadi are among the films.
Amir Esfandiari added that Iranian films are very popular among Africans residing in Europe.
"But unfortunately, some compare the cinema of Iran with the films of Hollywood and Bollywood, although they have long had a large share of the international market and their films are screened at very many cinema halls for," he said.
Esfandiari also noted that based on the reports released at the Cannes festival, over 52 percent of the European audience for African and the Middle Eastern films is dedicated to Iranian movies.
Based on reports issued by the Cannes festival, Iranian cinema has captured a 52-percent share of the European market for African and Middle Eastern films, Esfandiari explained.

New History Documentary film on failed US Hostage Rescue Debacle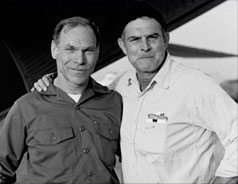 US MOVIE FICTION ON IRANIAN SOCCER TEAM VS US TEAM

Photo: Actors Left Sacha Maxime ( Babak) Right Christopher Maleki ( Dr. Shafaian's ) to star in movie drama on American Iran soccer Match titled The Offside: The Price of Dreams directed by Erik Laibe
PLOT:
When the Iranian National Soccer team comes to America to play the U.S. team, BABAK is their captain. He is the young, handsome face of the team with the quick moves of a lightweight boxer. Simply stated, he is the star. Babak's older brother MOURAD (once a fine player in his own right - but never having the talent of Babak) is attached to the team as they tour the States - perhaps only to handle his brother. The two are very close, but differ ideologically in that Mourad is much more fundamental. The story begins with the Iranian team playing the U.S. squad in Los Angeles. We learn that Babak had been approached months earlier in Iran about possibly staying in the U.S. to play for the local professional team. Babak receives a one million dollar signing bonus to join the Los Angeles Stars pro team just prior to the end of their regular season and help their chances in the playoffs. Mourad is incensed by his brother's decision and attempts to explain that Babak is compromising his life on many levels - patriotically, religiously, and most importantly, the abandonment of family. Babak can never go home. Babak meets SORAYA, a beautiful, charming Iranian/American who's an up and coming reporter for a national Cable Sports Channel and the daughter of the Stars owner. The two young people have an immediate attraction. Her father, DR. SHAFAIAN, is a very powerful figure in the local Iranian community. Although he professes to be a friend to Babak, until the end we are unaware of where Dr. Shafaian's loyalties lie. The pressures of a new country, a new soccer team, his brother's cynicism, and the involvement with Soraya all come to a head as the Stars play the Dallas Panthers for the Championship. Adding to the anxiety is a blackmail plot - threatening to imprison Mourad and the rest of his family should Babak stay, or perhaps be imprisoned himself should he try to return to Iran. This compelling immigrant's story is how one's life is impacted by the decisions of life, family, religion, and morality that face every person chasing the American Dream.


"Fish Fall in Love" wins best film award at French filmfest

http://www.mehrnews.ir/en/NewsDetail.aspx?NewsID=313671

TEHRAN, Apr. 18 (MNA) -- Iranian director Ali Rafiei's "Fish Fall in Love" won the Best Film award at the 7th Aubagne International Film Festival, held from April 10 to 15 in France, the Iranian Students News Agency (ISNA) reported on Tuesday.
The film was previously screened in Canada and the Netherlands.
Written by Ali Rafiei, the film tells the story of a man called Aziz who returns to his village after 25 years and rediscovers not only the home he left but also Atieh, the woman he abandoned.
The film stars Reza Kianian, Roya Nonahali, Golshifteh Farahani, and Maryam Sa'adat.
Rafiei held several workshops on screenwriting and stage and costume designing on the sidelines of the festival.

Giants of Iranian cinema to promote national carpet industry

TEHRAN, Apr. 9 (Mehr News Agency) -- The art advisor of the director of Iran's National Carpet Center has announced that fifteen prominent Iranian filmmakers are to make short films to introduce and help market Iranian carpets, IRNA reported on Sunday.
Manuchehr Mohammadi said that each filmmaker is to describe Iranian carpets in less than twenty words in a five-minute short film.
Ebrahim Hatamikia, Abbas Kiarostami, Dariush Mehrjuii, Majid Majidi, Bahram Beizaii, Kamal Tabrizi, Rakhshan Bani-Etemad, Khosro Sinaii, Mojtaba Raei, and Behruz Afkhami are among the filmmakers who will be participating in the project.
Several meetings with the directors have been held, and they have agreed to participate, Mohammadi explained.
All expenses will be paid by the carpet center, he added.
The national consensus on the need to support the hand-woven carpet industry is the main motivating factor for the filmmakers in this major project, he said.
Project administrator Reza Mirkarimi said that the project is tentatively scheduled to begin next month and continue for four months.
Sinaii has completed shooting his film and is now editing it, he added.

Juliette Binoche in Iran to appear in Kiarostami's film
Payvand.com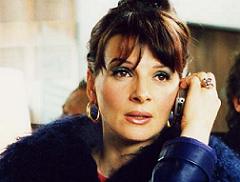 TEHRAN, Apr. 5 (Mehr News Agency) -- Oscar-winner French actress Juliette Binoche arrived in Tehran on Tuesday night in order to appear in Iranian director Abbas Kirostami's new film, which will be shot in Iran, the Persian service of IRNA reported on Wednesday.
She will play a leading role in Kiarostami's film, but IRNA didn't mention the film's title.
Born in 1964, Binoche, the daughter of an actress and a sculptor, was only 23 when she first attracted the attention of international film critics with "The Unbearable Lightness of Being" (1988). She was selected as the heroine of France's most expensive ($35 million) movie ever: "Le Hussard sur le toit" (1995).
In 1996 her role as Hana in the blockbuster film "The English Patient" brought her the Academy Award for Best Supporting Actress.
In 2000, she was nominated for the Academy Award for Best Actress for her starring role in the film "Chocolat", based on the novel by Joanne Harris (the award was won by Julia Roberts for her role in Erin Brockovich).

Another film on Sept 11th: United 93 Movie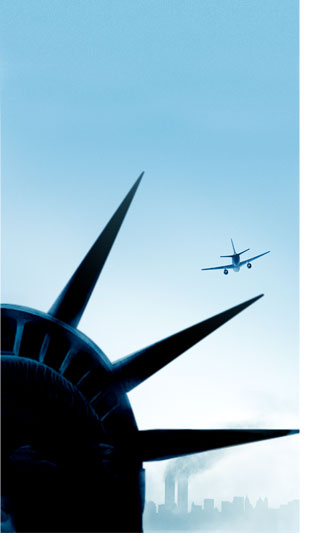 Aeschylus's The Persians Performed by Royal Shakespear Comp
'The Persians' as Antiwar Allegory: Has Blood-Soaked Greek Tragedy Gotten an Extreme Makeover?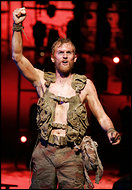 Film Critic Jean Claude Carrière and wife Nahal Tajadod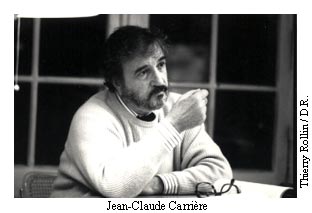 Certainly the most respected and known film critic in the World since François Truffaut, Jean Claude Carrière is well known as Jury in French Cannes Film Festival and Hollywood circles. He also teaches Cinema at the famed film school of La Femis in Paris. He became famous as the scriptwriter of Louis Bunùel in The Discreet Charm of the Bourgeoisie and has co-authored many films with such greats as Gérard Depardieu in Cyrano de Berjerac, The Return of Martin Guerre , Daniel Day Lewis and Juliette Binoche in Kundera's film adaptation of novel The Unbearable Lightness of Being and probably one of the best French on screen action duet Alain Delon and Jean Paul Belmondo in Borsalino and sex icons of the 60's Brigitte Bardot and Jeanne Moreau in Western Spagetti Viva Maria. The Epic Indian poem Mahabharata was translated by him and British Peter Brook and adapted for a TV series. Jean Claude Carrière has also co-authored translations of Abass Kiarostami's poems with his Iranian Wife Nahal Tajadod.

Nahal Tajadod was born in Iran. A specialist in the history of Christianity in Persia before the coming of Islam, she is an associate member of the World of Iran group of the National Centre of Scientific Research (CNRS) in Paris She is the author of Les porteurs de lumière (christianisme en Perse IIIe-VIIe siecle) (The Light-bearers: Christianity in Persia from the third to the seventh century) and A lest du Christ: Christianity in China from the Seventh to the Ninth Century. She has also done research on the writings of the Sufi mystic Rumi and on Persian Prophet Mani.

I was lucky to speak to him last Sunday at the Book Fair in Paris. He was very warm and we wished one another a Happy NowRooz and said he was to go to Iran in a few days. I hope to interview him one day for he is extremely cultured and needless to say particularly brilliant. I took advantage to suggest to him that the bestselling Amin Maloof novel Samarkand (that spans from the Times of Omar Khayyam to that of the Constitutional Revolution of 1906.)

http://www.amazon.com/gp/product/0349106169/002-9624540-0024815?v=glance&n=283155

could be a great Epic film. He agreed and said that he was interested in this approach all the more that Maalouf's Leon Africanus also a bestseller had been done before but that it was a question of finding producers or the right angle to make such a film. I chuckled and told him that he should ask ebay's boss Pierre Omidyar who co-produced Syriana.

I have to say I have never been a fan of most of Jean Claude Carrier's films but I have always admired his wit and I am certainly not the first to notice that. To think I shaked hands with the man who has probably known and befriended the Worlds most greatest directors ranging from Billy Wilder, Alfred Hitchock, François Truffaut, Abass Kiarostami, Akira Kurosawa.

What an honor !!

He certainly made my Day !!!

Darius KADIVAR

Also see article in French :
http://www2.bifi.fr/cineregards/article.asp?sp_ref=164&ref_sp_type=2&revue_ref=17

New Iranian Actress at Oscars to play in Mission Impossible III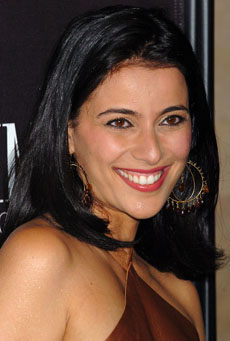 Beautiful and talented Bahar Soomekh is one of the latest rising stars in Hollywood.She was born in 1974 and has played in roles on TV shows such as JAG and "24".Lately, she has splashed onto the big screen with a part in Crash with Matt Dillon and Sandra Bullock. Crash explores the different racial stereotypes in society.Look out for Bahar in the upcoming Mission Impossible III with Tom Cruise and on TV in the new series Bones as the character Sahar Masruk.


Official website of controversial Turk Film: Valley of the Wolves

This film was just released in France but has no visa exploitation here. It has been quite controversial during its screenings in Germany and other countries in Europe where it has been released. Its been filmed as an American movie and has cast one Hollywood actor Billy Zane ( Titanic).

Its been a hit in Turkey and is probably the major film production from the middle East to have had such a wide audience.
The political message is nevertheless subject to controversy and debate particularly the depiction of Americans and Israelis. The films success in Turkey is certainly revelating of the negative image of American amongst Middle Easterns particularly after the Abu Gharib scandal

http://www.artenexil.net



New York Premiere of Sadegh Tirafkan's Temptation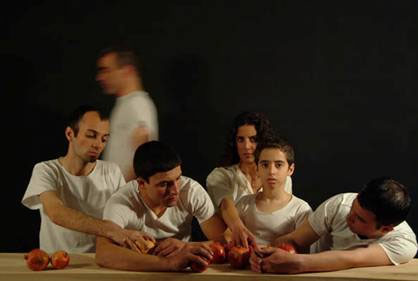 Sadegh Tirafkan will present his latest body of work - Temptation - at his third New York exhibition at the Massoud Nader Gallery 420 East 58th Street, New York from March 10th through March 23rd 2006, 11AM to 5PM.
Tirafkan's photographs explore the power, value, and meaning of symbols in both the individual and society in Persian and Western culture. Prominent throughout this series is Tirafkan's use of the pomegranate, one of the most prolific archetypical symbols with interpretations ranging from life and immortality to love and passion.
Temptation, completed in Iran in March 2005, takes some of its context from High Renaissance art, particularly The Last Supper by Leonardo da Vinci. Tirafkan transcends time and geography to effortlessly fuse this classic construction from sixteen century Italian art with the richness of culture and history from Iran.
Through a privileged glimpse into the private and inner world of his characters we can see and experience that the complexity of relationships and the expression or repression of deeper emotions also transcends the boundaries of time, geography and culture.
Tirafkan is a persevering artist who navigates through time and culture in search of his place and identity as an Iranian man in the contemporary world. The medium of photography is his main platform to construct powerful visual plays using a combination of elements that he inspirits with symbolism.
The significance of symbolism throughout Tirafkan's body of work comes from his Persian root in which direct dialogue is rarely used, but frequently replaced by symbolic languages.
Following the New York premiere of Temptation, Tirafkan will present a new exhibition - Iranian Man - as part of the 19th Annual Images Festival at Aspace Gallery in Toronto, Canada from March 31- April 22, 2006.

Sadegh Tirafkan was born in Iraq to Iranian parents and shortly after moved to Iran where he raised and began working as an artist. Tirafkan's work which spans photography, video and collage, is mainly focused on Iranian culture, identity and gender. Tirafkan has exhibited widely in Iran at the Museum of Contemporary Art in Tehran; in Europe including the VU Gallery in Paris; and in the United States including the Lehmann Maupin Gallery in New York. He currently divides his time between Toronto, Canada and Tehran.
To view Tirafkan's body of work, please visit www.tirafkan.com. For more information and to RSVP, please contact Lester Davis at 212.253.2112 or Ldavis@BAAdvantage.com.



Nancy Sinatra sees father sing again
Thursday, March 9, 2006; Posted: 10:11 a.m. EST (15:11 GMT)
CNN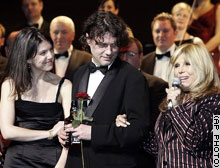 Nancy Sinatra, right, with director David Leveaux at the first night at the London Palladium.
2.75% Fixed Student Loan Consolidation

Manage Alerts | What Is This? LONDON, England (AP) -- The daughter of late, legendary singer Frank Sinatra saw her father take the stage Wednesday at a London theater he first graced in 1950 -- thanks to technology that has helped create an unusual new musical.
Nancy Sinatra, 65, famed for her own hit song "These Boots are Made for Walkin'," visited Britain to see a 24-piece orchestra provide backing to movie footage of the entertainer.
Never-before-seen pictures and film of the singer taken during the 1950s -- which has been painstakingly cleaned and edited -- are displayed across a series of angled screens and give the impression of Sinatra moving across the stage in time with the music.
"You brought the magic back. The heart is there, the humor is there... Everything is there," Nancy Sinatra told director David Leveaux as she took the stage after Wednesday's performance.
The show, "Sinatra at the London Palladium," charts the singer's life and music from his birth in 1915 to his death, at the age of 82, in 1998. It includes home-movie footage of his children Nancy, Frank and Tina.

Iranian film wins top prize at Cairo gala
http://www.mehrnews.com/en/NewsDetail.aspx?NewsID=302389

TEHRAN, Mar. 12 (MNA) -- The Iranian film "There Was a Moon and a Fox" won first prize in the animation film section of the 16th Cairo International Film Festival for Children, which was held in the Egyptian capital from March 2 to 9.

"There Was a Moon and a Fox", which is based on a book of the same name by Anahita Teimurian, tells the story of a fox who loves the moon and climbs a mountain so that he can entertain the moonlight.
He makes the moon feel at home by cooking delicious food for her. Sometimes, the fox sings beautiful songs for the moon to make her stay longer, but problems arise because the moon waxes gradually to the extent that she can no longer come to the fox's den.
Director Babak Nazari's fantastic film was previously shown at the 22nd Chicago International Children's Film Festival last autumn and won third prize at the 8th Auburn International Film and Video Festival for Children and Young Adults in Sydney last September.
A total of ten Iranian animated films, including "Silent Bird", "Internet Adventures", "Alliance", "Return Home", "Dear Delicious Friend", "The Duck and the Farmer", and "The General and the Kite", were screened at the Egyptian gala.

Iran's artists wonder how far they can go
By Michael Slackman The New York Times
TUESDAY, FEBRUARY 14, 2006
http://www.iht.com/bin/print_ipub.php?file=/articles/2006/02/14/news/journal.php

TEHRAN Rock stars are a brash, in-your-face breed, often charging their audiences with lyrics of defiance. But here, they are all that, and a bit scared, too. "Please, I'm gonna be in deep trouble," said a rock musician after a recent show when asked for a copy of the lyrics to a song, "The Gift," that his group had performed. He handed them over, but cautioned he could get in trouble.
I have a right to be caught by the cops
Have a right to be called by the judge
Have a right to be sent to the fronts
And come back in the back of a truck in a box.
Compared to the defiance that explodes from rock music in the West, the song seemed tame. But this is Iran, a nation that often feels otherworldly, caught someplace between an anything-goes attitude and the intense restrictions and scrutiny of a religious government.
After the Islamic revolution, when Ayatollah Ruhollah Khomeini was fashioning Iran into a Shiite Islamic state, one of his many sayings was: "Keep the appearances of Islam."
Public profile is important. It was accepted, for example, for Iranians to choose not to fast during Ramadan, but they were expected to eat in the privacy of their homes. After centuries in which Shiism permitted its adherents to hide aspects of their faith in order to protect themselves against discrimination, a practice called Taqiyah, the principle seems to have etched its way into the national character. Appearances can be paramount, but not always truthful.
During the years that reformers were in power, the authorities permitted some outward challenges to appearance. Of course, appearance here refers not simply to veneer, but to rules of behavior that inhibit or expand on the possibilities of daily life. The reformers allowed a touch more self-expression, mostly social freedoms such as looser dress codes. But they also gave some leeway to those who publicly questioned the government and leadership.
Now there is a new conservative president, Mahmoud Ahmadinejad, and people are wondering where the lines will be drawn and how far they will be permitted to challenge appearances.
The president has given some clues, though not necessarily the ones that were expected. Many thought he would quickly issue a new edict enforcing a strict Islamic dress code for women, but that has not happened. In a way, on some matters, the new president seems, by design or circumstance, to be imposing control by not defining where those redlines are. Some publishers are self-censoring, for example, because they do not want trouble.
And a group of musicians, whose lyrics gently brush past the issues that concern many young people - unemployment, freedom of choice, military service, dating - are also wondering how far they can go in public.
"There is no written law," said the musician, who agreed to be identified but whose name is being withheld because he was worried about being punished and his band blocked from playing. "You are allowed to do everything, unless you want to share it."
One of the most unnerving activities in Iran can be the act of public sharing of ideas that challenge the system, because, at the minimum, that amounts to challenging the appearance the government would like to promote. A blogger sits in jail for sharing his ideas. Newspapers are shut down for sharing. A journalist is denied permission to leave the country. BBC's Persian Web site is filtered. Always for sharing, which can, of course, lead to the slippery slope of public questioning, public discontent and public organizing.
Governments all over the world try to limit public sharing, often in the name of state security and stability and patriotism, or out of a sense of paternal control with those on top dictating to the masses what is right and what is wrong.
And still people find ways to share, in part because it is human nature to bristle against the reins of restraint imposed by authority. In Egypt, they protest and often get beaten by the police.
But Iran is not the Arab world. Iranian civil society appears vibrant and has not been crushed the way it has been by the authoritarian regimes that are in the neighborhood. There is, on many levels, real politics here - often with the outcome unknown - and on the most important issues, leaders must draw consensus from different levels of power. And so people in many spheres - arts, sports, politics and business - find themselves pressing against the limitations of what is deemed permissible.
This is mostly done behind closed doors, in the privacy of people's homes. Some people, however, risk public sharing. The musician and his band frequently practice in a small, private room, doors locked against their world. But on the rare occasion when they perform in front of an audience, the authorities take notice.
"Sorry if I sound a bit conservative, but the thing is, we are in a kind of a weird condition these days," the musician said in an e-mail message requesting caution about how the band's story would be written after a recent show. "We have been walking on wires all these years and we know that we have to continue for God knows how many more."
These are tense times in Iran. The country is under threat of once again becoming an international pariah, as in the days when Khomeini issued a fatwa calling for the murder of Salman Rushdie, author of the book "The Satanic Verses." This time it is the leadership's drive for nuclear power that threatens to isolate the country internationally.
That alone has caused widespread anxiety. But those Iranians who are inclined to challenge appearances, even slightly, have an added worry.
A well-known Iranian actor who had been in exile for years, only choosing to return when the reformers were in power, was reluctant to answer questions. He was attending Iran's version of the Academy Awards when he leaned over, and in a whisper said that he wanted to explain why. He had been asked such questions: "Why are so many Iranian films sad?" and "Is he concerned that the new government will crack down on artistic freedoms?"
It was the awards ceremony to conclude the 24th Fadjr Film Festival. Iran's biggest stars were there, having wrestled their way through the mob scene blocking the entrance to Vahdat Hall. The stars milled around the lobby with excited guests who asked for autographs and for a chance to pose with the celebrities for photographs.
Ali Reza Khamseh, a comic actor whose Friday morning show used to address family issues, said: "Not everybody is capable of laughing when a crisis is going on. It is important to laugh when we are being banged on the head."
He said that he was talking about divorce, unemployment and other personal issues, but that the message had a much broader reach in these tough times.
Khamseh said this with a big broad smile. Until a man walked over. The man leaned into the conversation, not smiling, not frowning and listening intently.
Approached, he said his name was Yehia Nouri and that he was a gym teacher. He had a beard and was wearing a soiled winter jacket. He was carrying a small briefcase in his hand.
"The Koran," he said, "says whatever hardship one is feeling, your attitude should be to bear it."
Perhaps he was a gym teacher eager to listen to a celebrity and to offer his ideas to a foreign reporter. But this is a place where people are, in fact, watched, and so the conversation with the comic actor evaporated.
At a recent concert, as young men and women piled into a small room, one concert-goer leaned over and, casually said: "I hope the Basiji don't rush the place," referring to the vigilante squads of bearded men who often use violence to enforce strict Islamic social codes. People here have grown accustomed to bullets whizzing by their heads and are casual about the risk they face.
As the music played, the crowd swayed and clapped, shouted out choruses, and bopped the way any audience of young men and women might in the West. The music, though upbeat, had a slight funeral-dirge quality to it, as the singer took the chance to share his thoughts, in public.
Have a right to be ignored and neglected
Have a right to be segued and be raided
Have a right to be dammed, a right to be jammed
Have a right to be sanctioned and banned.
When the show was over and the lights came up the band seemed exhilarated - and frightened.