Festival de Cannes picks two juries
PARIS -- The Festival de Cannes on Friday named the panelists who will sit on the juries for Un Certain Regard and Camera d'Or. American director and producer Monte Hellman will preside over an Un Certain Regard panel rounded out by Iranian author Marjane Satrapi and four journalists: American Laura Winters, Italian Maurizio Cabona, Frenchman Jean-Pierre Lavoignat and German Lars-Olav Beier. Un Certain Regard's Gan Foundation prize is awarded during the festival's closing ceremony for best film in the section. Romanian director Cristi Puiu's "The Death of Mr. Lazarescu" won last year's prize. (Anna McQueen ) FULL STORY

-------------------------
Marjane Satrapi & Chiara Mastroiani Cannes Persepolis film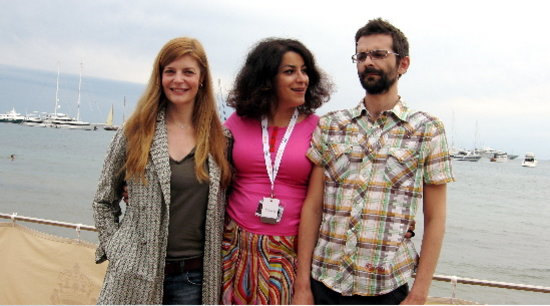 At The Carlton Beach in Cannes Tuesday, actress Chiara Mastroianni (left) with "Persepolis" co-writer/directors Marjane Satrapi and Vincent Paronnaud. Sony Pictures Classics announced a deal for the new animated feature adaptation of Satrapi's book of the same name. Photo by Eugene Hernandez/indieWIRE

CANNES '06 MARKET DAILY: Sony Classics to Release Satrapi's "Persepolis" Memoir; IFC Picks Up "Destricted;" Wong Kar Wai's New Film; and More
by Eugene Hernandez, Brian Brooks and Kristina Woo (May 23, 2006)
In a deal with Celluloid Dreams, Sony Pictures Classics announced Tuesday it will release "Persepolis" (based on Marjane Satrapi's best-selling graphic novel autobiography) in North America. Satrapi co-wrote and is co-directing the project with Vincent Paronnaud. Executive produced by Kathleen Kennedy of the Kennedy/Marshall Company, the film is a co-production with France 3 Cinema and is being produced by Marc-Antoine Robert and Xavier Rigault of 2.4.7. Films. It was described in an announcement as a "poignant coming-of-age story of a precocious and outspoken young Iranian girl that begins during the Islamic revolution." Hengameh Panahi from Celluloid Dreams is handling the film's international sales.
[indieWIRE's Cannes '06 Market Daily column is being published in the Cannes Market News print dailies, produced by Le Film Francais and the Marche du Film. 13,000 copies of the English-language publication are available in all festival venues, hotels and throughout Cannes.]
Satrapi, a member of the Un Certain Regard jury this year at the Festival de Cannes, has received international attention and acclaim for her graphic novels, "Persepolis" and "Persepolis 2." During a lunch at the Carlton Beach on Tuesday in Cannes, she emphasized that her story is a subjective one and she does not strive to represent all Iranians. She was born in Rasht in the late 60s and now lives in Paris. Her latest book is "Embroideries," and takes a look at the sex lives of Iranian women.
In a statement Tuesday, Satrapi said, "I observe with some sadness that five years after publishing my book "Persepolis," my country is still, indeed more than ever, in the spotlight. "Persepolis" has become not just about me telling my story. It is universal, immediate and necessary."
The film is being made in Paris, with Chiara Mastroianni set to voice the lead role in French and supporting voices will include Catherine Deneuve, Danielle Darrieux and Simon Abkarian. An April 2007 competition date is expected for the project, with an English version of the film also planned. [Eugene Hernandez/indieWIRE]
An illustration from "Persepolis" by Marjane Satrapi, courtesy of Sony Pictures Classics.
IFC Entertainment Gets "Destricted" in Cannes
IFC Entertainment has picked up all North American rights to "Destricted," IFC President, Jonathan Sehring announced Tuesday from Cannes. Andrew Herwitz of the Film Sales Company negotiated on behalf of the filmmakers with