---
---
Bravo!
AMAZING: See VIDEO of Bahraini Women's Rights Activist Ghada Jamshir
SUCH A BRAVE WOMAN (Dubai/Saudi Arabia)
---
Police in Tehran ordered to arrest women in 'un-Islamic' dress
· Taxi drivers responsible for clothes of passengers
· Purge allied with effort to cut viewing of western TV
Robert Tait in Tehran
The Guardian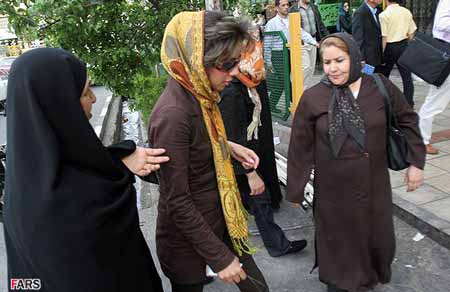 Harassing women in Iran, once again

Iran's Islamic authorities are preparing a crackdown on women flouting the stringent dress code in the clearest sign yet of social and political repression under President Mahmoud Ahmadinejad.
From today police in Tehran will be under orders to arrest women failing to conform to the regime's definition of Islamic morals by wearing loose-fitting hijab, or headscarves, tight jackets and shortened trousers exposing skin.
Offenders could be punished with £30 fines or two months in jail. Officers will also be authorised to confront men with outlandish hairstyles and people walking pet dogs, an activity long denounced as un-Islamic by the religious rulers.
---
Afghan Women and........Iranian women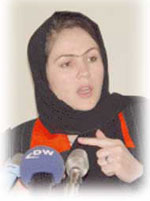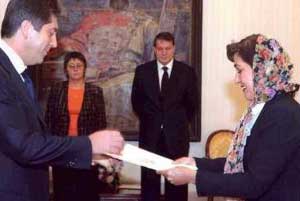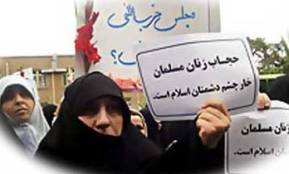 ---
Laleh seddigh - the persian daredevil
by: SR?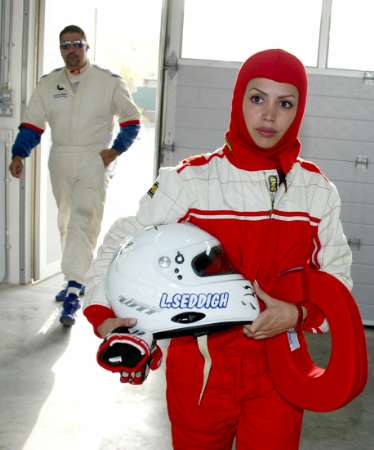 Born in Tehran, Laleh Seddigh is the next contender and favorite competitor from Iran to win in the International Autoracing circuits. A PhD student in industrial management and production at Tehran University, Laleh has always loved speed.Having started driving at the age of 13, with her father by her side, Laleh is not only the best driver in Iran, but she is also the first woman to ever compete with men in the same sport and win. Graceful, stunning, and smart, Laleh is not afraid to push hard for what she loves. Last month, she was granted her International Racing Driving License during the BMW School Series at the Bahrain International Circuit in Manama. This enables the 28-year-old to compete at the international level, where the "little Schumacher", as she has been nicknamed, can prove to the world what she is capable of.

Her fans and friends joke that she learned driving on the streets of Tehran, where anything goes. That may not be far from the truth, but Laleh has a supportive family behind her. She considers her father, her role model and mentor, while Mr. Said Arabian, Iran's previous national champion, is her driving coach.When she is not driving her saloon car, Laleh is studying hard to follow in her father's footsteps. With a bachelor's degree in industrial management and a master's in production engineering, she hopes to follow in her father's family business. But all of that can wait.

The speed-hungry beauty realizes that she only has a few more years of driving left, and has her eyes set on winning. She is currently training every day, working out and preparing for the upcoming car races. She is also looking for an international sponsor who can help her improve her skills and get onto the international scene. She has been sponsored by Proton, a Malaysian car that is assembed in Iran, in the past.
Laleh hopes that her driving will inspire more people to take up challenges in their lives. With her brightly colored scarves and jest for life, she has acquired a huge fan base in Iran and outside. She is also changing the face of professional race car driving for women. Ever since she started, there have been more and more women applicants in Tehran, and a new training program for women drivers.

With so much determination, courage and confidence, there is no doubt that this Persian beauty will achieve any goal she sets her mind to.
---
Wafah Dufour, aka Wafah bin Laden

Osama bin Laden's niece Wafah Dufour emerges from the ruins of the World Trade Center.
BY JM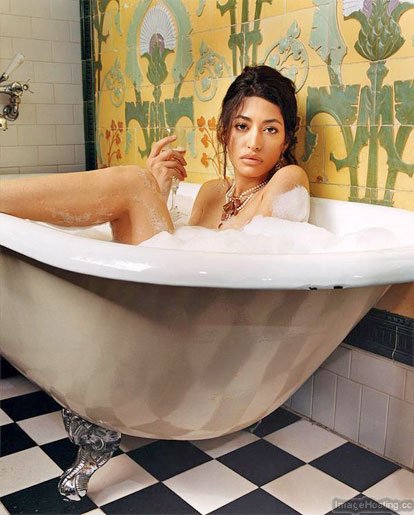 Wafah Dufour, niece of Osama bin Laden is a victim of the September 11 attacks. How?
Wafah, daughter of Osama's half-brother was born in California to Arab parents settled in US. She lived a reasonably satisfying life, till the high priest of Islamic terrorism decided to bomb the twin towers.
Till 9/11, Wafah Dufour was Wafah bin Laden. She had grown up in the US, and had learned to memorise the Koran by the time she was 10. She has never worn a veil, though she remembers her mother wearing one.

Her parents left for Switzerland when Wafah Dufour was very young. She grew up in an all-girls school. Wafah knew that OSama bin Laden was in the crosshairs of American intelligence, but never met him in person. Wafah Dufour recollects that she has heard people speaking ill about him, but she herself does not have any soft feelings for him.
Wafah Dufour's father Yeslam is the half-brother of Osama bin Laden. Yeslam and Osama are among the 54 children of Mohammed bin Laden, who was a leading construction magnate in Saudi Arabia.
Things changed completely after 9/11. Wafah Dufour went into depression and stayed home for six months. She refused to meet people. Her family in Geneva used to get death threats from anonymous callers.
Wafah Dufour's fortunes took a turn for the worse. The bin Laden surname was becoming a stone around her neck. Wafah had some job offers at the time of the attack, all of which vanished after the towers came crashing down. Despite having a masters degree in Law, Wafah Dufour found that there were no jobs for her in the Land of the Free.
When the twin towers came crashig down, Wafah Dufour was a student of New York's Columbia Law School. But when the attack actually occurred, Wafah was in Switzerland visiting her mother. She said she was both concerned and ashamed about what people would think of them. New York, she says, was her home all her life.
Which is when she decided to change track. Being associated with Osama Bin Laden, even if only in surname, was asking for trouble - though that's not the way she puts it. Wafah dropped her bin Laden surname and adopted her mother's surname Dufour. She decided to switch to singing and modelling, which is how she finally appeard in GQ magazine, and became the talk of the town.
The latest issue of GQ features Wafah Dufour based on an interview with her accompanied by some, well, un-Islamic pictures. Wafah Dufour models in lingerie and skimpy nothings, appearing in a bath tub. She poses with a feather boa, wearing stilettoes and holding a wine glass.
There are no nude shots, though. However, the revealing photos are enough to raise the hackles of Islamic fundamentalists. Wahabi Islamic laws mandate that women wear veil in public, and Osama bin Laden himself is a major proponent of the Wahabi brand of Islam.
Though she hates to be assocated with the Osama bin Laden name, it is clear that the dreaded connection has raised the curiosity factor. She says that there are about 400 people related to bin Laden and many of them don't even know each other.
Ironically, bin Laden surname which effectively spiked her career may give her a leg-up in Wafah's singing-modelling career. If the GQ photo-shoots are anything to go by, she has a good career ahead, in modelling if not singing. Says Wafah: "I think that in music, talent is the most important thing. If I don't have talent, well, I'll never go anywhere." Way to go, Wafah Dufour!
---
---
---
---
---