Blue Beauty - a must see slide, just amazing

Iran To Offer Security Council New Proposals

By Safa Haeri

Blair Warns of 'whole Series of Measures' Against Iran
March 29, 2007
AFX News

LONDON -- British Prime Minister Tony Blair has warned Iran that there is a "whole series of measures" that could be taken to pressure the Islamic republic to hand over 15 British navy detainees. "What we have to do in a very firm way, is step up the pressure," he told ITV television, as British sought an agreement on a United Nations Security Council statement about the dispute.

Beware of Mullahs Bearing Gifts
By Amil Amani
Iran's mullahs have repeatedly indicated their willingness and ability to help restore order in Iraq, on the condition that the United States packs up and leaves the region. The mullahs have also pledged on their Boy Scout's honor, although they have never been Boy Scouts, that their nuclear program is strictly for peaceful purposes. As a further gesture of goodwill, these self-appointed custodians of Allah's earth are volunteering to serve as unpaid policemen of the entire Gulf region, protecting vital U.S. interests, just like the Shah did before them. Sounds like a great gift package from the kind-hearted do-gooders of Allah.


Kenneth R. Timmerman
As the debate between the Democrats and themselves over the war in Iraq becomes increasingly absurd, inside Iran another debate of momentous proportions is underway.
It involves Iran's involvement with Iraq, and who is to blame for recent Iranian failures that have led to the capture of high-ranking Iranian intelligence officials by multinational forces in Iraq and the defection of two senior Revolutionary Guards intelligence officers, probably to the U.S.

Shahbanoo's message for Nowruz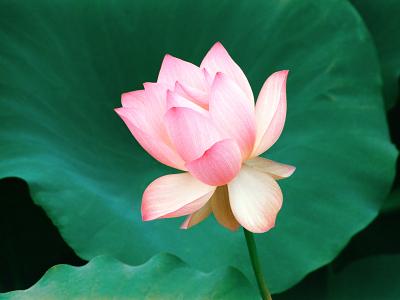 4Shanbeh Suri
I have to confess that I had to pinch myself once or twice last night just to remind myself where I am. The Iranians really are fun-loving people, and given half a chance they can party as well as the best of us. Perhaps too well.

300 Sparks an Outcry in Iran
MOAVENI/TEHRAN
All of Tehran was outraged. Everywhere I went yesterday, the talk vibrated with indignation over the film 300 — a movie no one in Iran has seen but everyone seems to know about since it became a major box office surprise in the U.S.
Over 10,000 signatures in a span of 48 hours. Over 10,000 people have refused to watch this movie! Please spread the word, so that Warner Brothers and others affiliated with them, think twice about spreading hate speech and violence! False creation of history, distorting facts, and spreading violence against the Persian community is Anti-American!

Shahbanou Farah Pahlavi's Message on International Women's Day
By: Darius Kadivar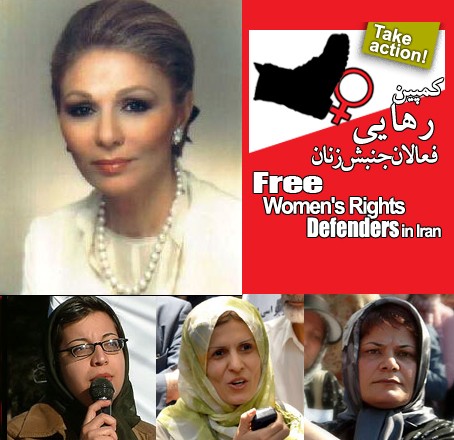 No Bombs, No Appeasement: Support the People of Iran's Struggle for
Please sign the petition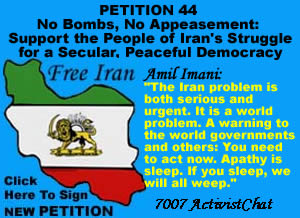 March 01, 2007
USA Today
Victor Davis Hanson
America should attend regional talks that may include Syria and Iran, in support of stabilizing the democracy in Iraq. But the United States should not negotiate directly with these terrorist states until they cooperate with ongoing United Nations investigations and cease trying to destroy neighboring democracies

US Funds Terror Groups to Sow Chaos in Iran
February 25, 2007
Sunday Telegraph
William Lowther in Washington DC and Colin Freeman
America is secretly funding militant ethnic separatist groups in Iran in an attempt to pile pressure on the Islamic regime to give up its nuclear programme. In a move that reflects Washington's growing concern with the failure of diplomatic initiatives, CIA officials are understood to be helping opposition militias among the numerous ethnic minority groups clustered in Iran's border regions.

Bolton Says U.S. Should Seek `Regime Change' in Iran (Update1)
By Janine Zacharia and Bill Varner
March 1 (Bloomberg) -- John Bolton, the former American envoy to the United Nations, said the U.S. should pursue ``regime change'' in Iran because European governments refuse to back sanctions tough enough to halt the suspected Iranian nuclear-bomb program.

January 12, 2007
Review & Outlook
The Wall Street Journal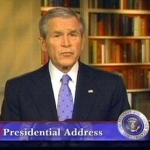 The United States has known for years that Syria and Iran are supporting Sunni insurgents and Shiite radicals in Iraq -- support that has taken a heavy toll in American lives. On Wednesday, President Bush finally suggested he'll do something about it.

ARABS SEE NO CHOICE BUT TO PREP FOR WAR
January 10, 2007
New York Post
Amir Taheri
French Foreign Minister Philippe Douste Blazy calls it "unthinkable" his Russian colleague Sergei Lavrov prefers "unimaginable." The terms are also used in Western diplomatic circles to describe an event few wish to contemplate: a military showdown with the Islamic Republic of Iran. Yet a recent tour of Arab capitals presents a different picture: Arab leaders appear resigned to such a showdown as inevitable, and are preparing for it.

U.N. Imposes Nuclear Trade Sanctions on Iran
Reuters
Evelyn Leopold and Irwin Arieff
The U.N. Security Council voted unanimously on Saturday to impose sanctions on Iran's trade in sensitive nuclear materials and technology, an effort to pressure Tehran to halt uranium enrichment work. "Today we are placing Iran in the small category of states under Security Council


Will the British Stay in Basra Until Security Is Established?
December 23, 2006
Arab News
Amir Taheri
Reopened after several years, the city theater is offering a version of T.S. Elliot's "Murder in the Cathedral" to packed audiences. At the other end of the town, scientists and religious leaders argue it out in a seminar on the relationship between science and faith. In between, the provincial governor marks the start of the ....

Could Sanctions Work against Tehran?
by Patrick Clawson
Middle East Quarterly
Winter 2007
As Western diplomats debate ways to counter Iran's nuclear program, the strategies they devise must take Iranian motives into account. If Iranian leaders see their nuclear program as essential to defending Iran's existence—as the Israeli[1] and Pakistani[2]

The Right Way to Negotiate with Syria and Iran
December 22, 2006
The Wall Street Journal
Abraham D. Sofaer
The Iraq Study Group's recommendation that the Bush administration drop its preconditions and negotiate with Syria and Iran has been praised as a "no-brainer"--and condemned as an improper effort to reward rogue regimes. Neither reaction is correct. Negotiating with enemies can be a useful aspect of effective diplomacy. But successful negotiations with enemies result not from the talks themselves but from the diplomatic strategy that accompanies them. The group's recommendations deserve support, but must be effectively integrated into President Bush's strategy of ending state-sponsored terror.

A Vote for Change?


December 20, 2006
By Amir Taheri,
Although it would take several days before the full results of twin elections held in Iran last Friday are officially established, it is already clear that the electorate have dealt the ultra-radical President Mahmoud Ahmadinejad his first significant political defeat.

Iran President Facing Revival of
Students' Ire
Nazila Fathi
As protests broke out last week at a prestigious university here, cutting short a speech by President Mahmoud Ahmadinejad, Babak Zamanian could only watch from afar. He was on crutches, having been clubbed by supporters of the president and had his foot run over by a motorcycle during a less publicized student demonstration a few days earlier.

The reason behind the Holocaust conference in Tehran
BBC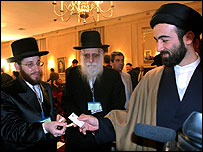 Amir Taheri
What to do about Iran? The question has haunted successive administrations in Washington since the raid on the U.S. embassy in Tehran and the seizure of its diplomats in November 1979.

National Review Online
Stanley Kurtz
Increasingly, it looks as though the United States may attempt to negotiate a "grand bargain" with Iran. To settle our fundamental differences, Iran would surrender its nuclear-weapons program, stop supporting terrorism, and stop undermining America's position in Iraq.